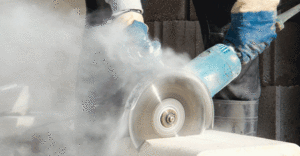 Although the dangers of respirable crystalline silica have been known for more than 80 years, silica dust has only recently begun to be recognized as the major health hazard it is. In fact, silica is now frequently referred to in safety circles as "the new asbestos."
However, despite the fact that the risks are well known, many employers still haven't taken the steps required for compliance. These steps include measuring worker exposure, implementing controls to keep exposure below the specified limits, and verifying that those controls work.
In talking with our customers as well as outside safety consultants, we've learned that one reason many general industry employers still haven't complied is that they don't entirely understand the new standard and how it applies to them. This lack of understanding has led them to develop misconceptions that can be dangerous for everyone involved. KARM Safety Solutions works with both Construction and General Industry. Offering Training and Consulting for both.
We are now offering Continuing Education Credits towards your CCB License
Minority business and Certified ESB Company Office 503-304-7037 or 503-689-6697
Equipment Safe Operator Training, OSHA Compliance Training, Site Safety Inspections and More.
Member of SEDCOR, Keizer Chamber of Commerce, OAME member, Salem Contractors Exchange